Aliso Air Commercial Air Conditioning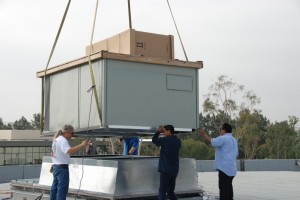 Commercial air conditioning systems are used by large corporations and small business owners to provide cooling comfort for the facility. A commercial system is commonly used for facilities that house only employees as well as those that have customers such as retail department stores. At Aliso Air Inc., we have decades of experience in the commercial HVAC industry and can provide you with the commercial AC services you need for a comfortable business each and every summer.
We have a commitment to excellence and will provide only quality service at reasonable prices to our customer base. We service a wide area in Orange County including Newport Beach, Irvine and Mission Viejo. We also provide service options for business owners in Riverside County. We offer repair, installation and maintenance service to cover your every cooling need. Read on below to learn more about what we can provide you.
Commercial AC Installation
When you need to update your cooling system in a large facility, we can help. We service all commercial properties from doctor's offices to major corporations. Businesses require a unique cooling system that is large enough to cool the area. The commercial systems are much larger and quite different from a standard residential HVAC unit. We have vast experience in installing such units, so we can easily provide you with the services you need for a new system install.
Our Aliso Air team can evaluate your property and determine which unit type will work best to keep your business cool. We'll help you find an affordable option that is energy efficient and will last for many years, helping your business to succeed and grow. Contact our office today to learn more about our installation service options and find a perfect fit for your business.
Repair Service Options
When it comes to keeping your business cool and comfortable, you must have access to quality repair service options. Our AC repair services can keep your system in check each and every summer. When you experience a cooling loss or odd behavior from your existing unit, contact us immediately. We will send a qualified technician to your business for an inspection and diagnosis of the problem at hand. Once the issue is determined, we will begin the repair process. In no time, your commercial unit will be back on track, providing cooling comfort for your facility.
AC Maintenance
Maintenance is a major factor to consider with your air conditioning system. For your unit to continue to operate efficiently, the system must be maintained. This means your system will need to be inspected and cleaned on a regular basis. For your convenience, we offer you customized commercial maintenance programs. With our competitively priced maintenance programs, we can offer you the maintenance service you need for a well-operating unit. Your system will remain energy efficient and provide you with low utility bills as you continue to operate your business.
With every commercial system maintenance program, we look at your equipment and air quality requirements. We create a plan based on your specific needs and then cater to exactly what you require. This will ensure your unit will function as you need it to, providing and excellent form of cooling for your business.
As you can see, we offer you quality services for your commercial systems. At Aliso Air, we care for every customer, helping you to have a better business. To learn more about the commercial services we can offer your business, contact our office today. We are waiting and ready to assist you! Let us provide you with quality services for your business needs.