AC Repair & Maintenance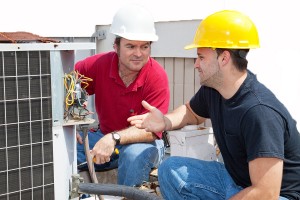 Air Conditioning units are used on a very frequent daily basis in our homes.  We use them to provide cooling comfort when the outside temperatures get too warm.  Air conditioning is especially important in the summer months, as the temperatures can spike to nearly unbearable numbers.  When you suspect your air conditioning unit of not working properly, it can become a great inconvenience.  It is important to assess the problems and contact a repair professional if you feel your air conditioning unit might be in need of some repairs.  Here are some signs that your air conditioning unit might not be functioning properly, notifying you that it is time to contact a professional.  Taking care of some these issues on the forefront and prevent possible bigger issues from happening, thus saving you time, money, and the inconvenience of dealing with the heat from summer months without any air conditioning.
Uncommon Room Temperature
Perhaps the most common way of identifying that your air conditioning unit is not working properly is when you notice issues related to the temperature in your home.  If you notice that your air conditioning unit is not producing any cold air, although it is running, or that the air flow is seemingly mild or less cool than usual, it might be time for repairs.  Also, if you notice that a specific room or area of the house is more difficult to keep cool than before, this could also be a problem.  Another indication is that the system is running constantly while not producing cold air, barely running, or that the system is of course not running at all.  If your air conditioning system is running constantly or for longer periods of time, this could be a sign that the system is having difficulty obtaining a certain temperature, due to a failure in the system itself.
Spike in Energy Bills
Another major sign that the system is not functioning properly is an increase in the amount of your monthly electric bill.  It is natural that your monthly bill would be more costly in the summer months, when you use your air conditioning unit the most.  However, if you notice that your monthly bills continue to increase over the months, especially with no change to the amount in which you are using your unit, this could indicate repairs as well.  This would mean that your unit is overextending itself and not producing the desired effect.  Other signs that your unit is in need of repair could include strange or loud noises coming from your system, water leaking form the system, dust accumulating in your home, or the system triggering a loss of power in your home as it turns on or off.
Routine Maintenance
Perhaps the most important way to prevent repairs to your air conditioning system is to receive routine maintenance on your system annually to prevent any issues.  During the routine maintenance, the professional technician will thoroughly clean your air conditioning unit and assess any needs at the time.  This is a great way to catch any needs ahead of time, before they get any bigger.  Other ways to prevent having frequent repairs on your air conditioning system is to make sure the system has proper insulation.  It is a good idea to insure that your attics and crawl spaces are insulated properly as well, which helps to aid in the overall insulation of your home so that the cool air remains on the inside, thus keeping your home cool and allowing your air conditioning unit to do its job.
About AlisoAir
Aliso Air has been serving the heating and air conditioning needs of homeowners and general contractors throughout Orange, Riverside and North San Diego Counties for more than 28 years. Our experience has enabled us to excel in installation, service, and mechanical design, supplying the marketplace with quality products at competitive prices. We are proud of the reputation and success of Aliso Air and we feel strongly that our accomplishments are achieved through our commitment to quality craftsmanship and incomparable service.